Flow Scooter App
Ultimate Control. The Flow Electric Scooter App is available to download on the Apple App and Google Play Stores.
The Flow Electric Scooter App enables you to easily check the status and change scooter settings from your phone.
Switch units from km to miles, turn cruise control on/off, switch between riding modes, turn lights on/off, turn lock on/off, monitor battery level and more.
For more details, check out the App that's right for you: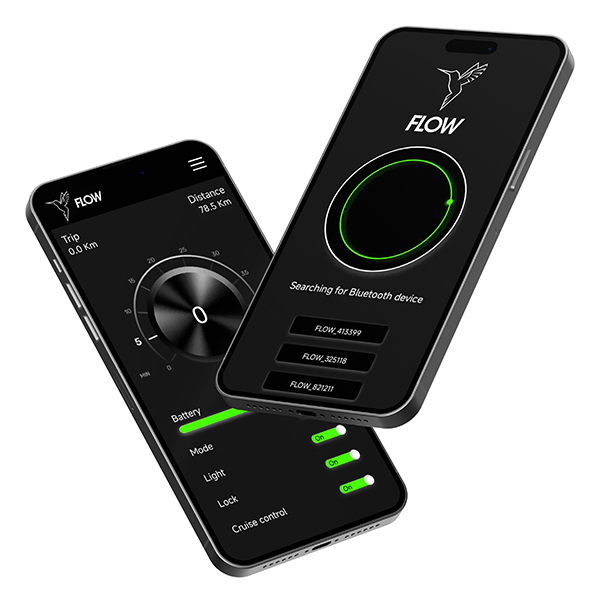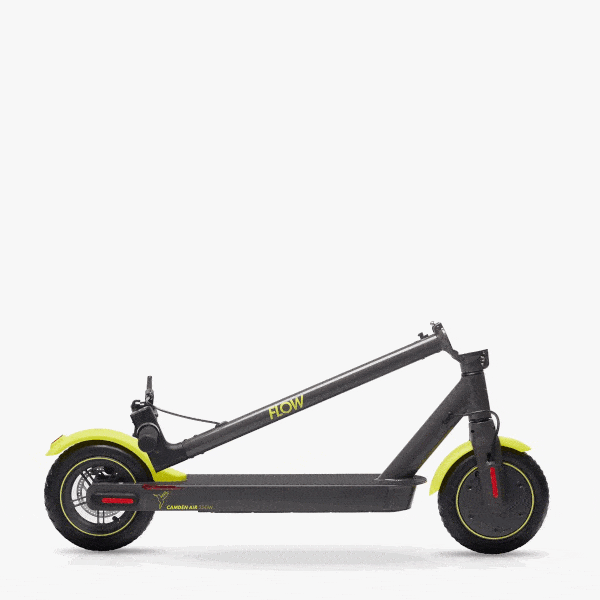 Lightweight and easy to move
Fold. Carry. Store. The Camden Air is lightweight and compact making it easy to fold, carry and store. The perfect balance between convenience and performance.
Unlock the latch and fold down the stem to allow you to easily carry with you. Ergonomically designed to carry over your shoulder or by your side. When you're ready to ride, unfold, clip the latch into position and you're ready to go. 3 seconds is all it takes.
Minimalist Control Centre
Bright. Clear. Compact. The Camden Air features a bright, colour LCD display, comfortable rubber handlebar grips and a tactile thumb throttle. No more, not less – minimal clutter and weight while delivering all the comfort and functionality you need.
A simple multifunction button controls both the riding mode selection and the bright LED lights. Smart cruise control frees your thumb so you can grip the bars securely while you're cruising. A single brake lever controls both the electric and disc brake providing responsive and safe braking. A conveniently positioned bell ensures you can easily make your presence known.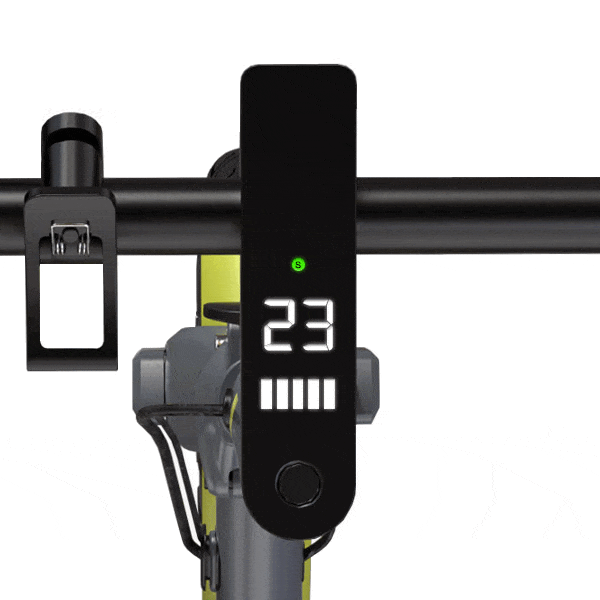 Be Safe, Be Seen
Powerful. Bright. LEDs. Ride safely day and night with built-in front and rear LED lights which flash under braking for increased safety.
Double Braking System
Stop. Quickly. Anywhere. Advanced braking system featuring a rear disc-brake and front E-Brake.
Powerful Motor with Brakes to Match
Acceleration. Speed. Performance. The Camden Air's powerful 350W motor (with a peak output of 540W) needs a powerful braking system to match.
As a result, we've fitted a responsive rear disc brake to balance the front E-Brake. The result, a stable and powerful braking system to bring you to a safe stop. Connecting that power to the road are two 8.5″ air tyres, giving you comfort, shock absorption and superior grip.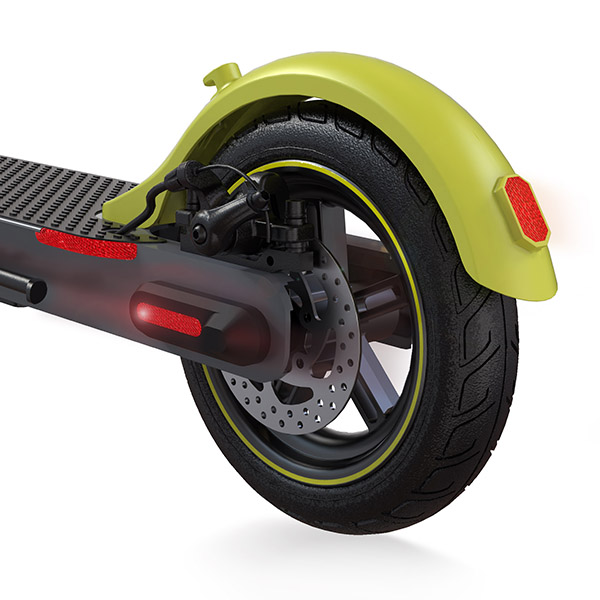 Free Fast Delivery
Like a Rocket – because we want you to get on your Flow as soon as possible!
1. Order!
Order your Flow electric scooter then sit back as we run it through a final quality check and prepare it for dispatch!
2. Relax!
Once dispatched, you'll receive an email with your tracking details so you can keep an eye on the progress of your order.
3. Flow!
You meet your new Flow electric scooter and enjoy the first of many rides together, smiling all the way!
Camden, London, England
The iconic London suburb of Camden is a hub of cultural significance unlike anywhere else in the world.
Famous for its markets, fashion and curiosities, Camden is a thriving inner-city district buzzing with style and life – just like the Camden Air.
Physical Specs

Packaging Dimension
110.5cm x 16cm x 53cm
Folded Dimensions
50cm x 108cm x 44cm
Unfolded Dimensions
110cm x 108cm x 44cm
Weight
12kg
Water Resistance
IP54
Tested to withstand water sprays from any angle.
Material
Aluminium Alloy
Max Load
120kg

Performance

Max Speed
25km/h
Max Range*
20km
Rated Power
350W
Riding Modes
Approximate Max Speeds by Mode
Eco Mode: =<15 km/h
Sports Mode: =<25 km/h
Climbing Angle
15 Degrees
Cruise Control
Y
Driving Wheel
Front

Safety

Front Brakes
E-Brake
Rear Brakes
Disc
Front Lights
LED
Rear Lights
LED
Recommended Tyre Pressure
35psi
Tyre Size
8.5″
Tyre Type Front
Air
Tyre Type Rear
Air
Bell
Yes
Suitable Age Range
14-50yrs

Battery

Battery
6Ah Lithium-Ion
Battery Power Capacity
216Wh
Battery Voltage
36V
Charger Input Voltage
100-240Vac
Charger Output Voltage
42V
Charging Time
3-4Hrs

Flow Electric Scooters Ltd reserves the right to change these specifications at any time.
*Based on standard testing regulations with a 75kg / 12st rider at 25 degrees Celsius ambient temperature, riding in the slowest mode at a steady/constant speed on a level, stable surface.

1 X Electric Scooter
1 X Charger
1 X User Manual
Assembly Tools

The Flow Camden Air Electric Scooter comes with a 12 Month UK Warranty.

This warranty is valid for the original owner from the date of receipt and covers original defects in materials and workmanship. Proof of purchase is required. This warranty covers parts and labour required to maintain your scooter in proper working order for 12 months for the following:

Manufacturing defects of the Main body, Handlebar, Deck, Forks and Charger
Manufacturing defects of the Control Panel and Motor
Manufacturing defects of the Battery

WHAT IS NOT COVERED?

This Warranty does not cover wearing parts such as: Handlebar Grips, Tyres, Inner-tubes, Deck Grip, Brakes, Brake Pads, Brake Levers, Bells, Bearings, Latches, Hooks, Buttons, Wheels, Kick-Stands, Suspension, Springs, Plastic Coverings, Cables, Removable Caps, Seals, Screws, Bolts, Paint, Cosmetic Damage and General Wear and Tear.

This warranty does not cover damage, faults or defects which are the result of a failure to follow the instructions in the user manual.

THIS WARRANTY CAN NOT BE USED IF:

The product or part requested to be repaired or maintained shows signs of mistreatment, neglect, abuse or misuse. There has been improper or inadequate maintenance or storage. The product has been modified. There has been improper assembly, operator error or water damage. The scooter has been used for extreme riding, tricks or stunts. Charger/s or component/s not supplied with the product have been used. There are signs of crash damage. There are signs of reckless or intential damage. The scooter is used for business, hire or commercial use. Claims outside the UK.

NEED TO MAKE A WARRANTY CLAIM?

Please contact us at: support@rideflow.co